Article by Denny McDaniels
I prepared a report about Winchester rifle brass calibers and their avalability. This can range from currently in hands of suppliers ready to ship if my supplies run low, they are listed as"available". Available usually means always available so generally I do not break the bank on these and filling large orders is retaliative easy task. Examples are 30-06 Springfield, 270 Winchester, 30-30, 223 Remington and all the rest what the industry considers common calibers.
"On hand, limited quantities" refers to stock on hand and once sold out may be a while before I can restock. Winchester appears to make periodic production runs that may take three to six months to fill. "Old stock on hand", this is calibers I managed to find, quantities are limited to supplies on hand and in all likely hood there will be no replacements because this is packaged in vintage Winchester-Western 20 piece boxes and are twenty years or longer when last made so there is not large amounts around to find. Finding them in virgin brass is even rarer.
25-20 W.C.F., 30-40 Krag, 32-40 Winchester, 348 Winchester, 358 Winchester, 35 Remington and 375 Winchester was originally considered to be never again. This in turn is not completely accurate.
The 25-20 WCF (click to view) was in allocated from the start so Duck Creek had limited quantities and listed as hopeful for additional stock.
30-40 Krag(click to view) is currently in stock, selling at $26.75 for a bag of 50 cases.
32-40 Winchester(click to view) is also in stock, the inventory at duckcreeksportinggoods.com is selling fast.
348 Winchester still have not seen, periodically Hornady is available.
35 Remington in Winchester has not been seen, Remington brand 35 Remington(click to view) is sold here at Duck Creek
358 Winchester (click to view) currently on hand in limited numbers $36.75 a bag, Starline (click to view) is usually available, at duckcreeksportinggoods.com
375 Winchester was on hand, limited quantities from the start, Duck Creek does offer Starline's 375 Winchester brass $35 a bag of 50. (click to view)
30 Remington, 32 Remington, 300 H&H Magnum and the 375 H&H Magnum are no longer listed in Winchester's catalog. Look for Norma 300 H&H Mag.(click to view) , currently on special pricing of $52.50 a bag of 50. The 375 H&H (click to view) is currently available in Remington.
As of the time of this article the 458 Winchester has not been produced yet and holding on to hopes of seeing more Norma at competitive pricing.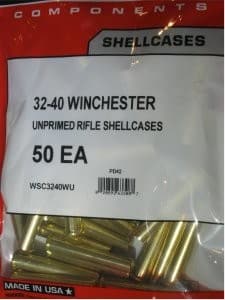 Revised July 23, 2019
Denny McDaniels