Description
50 factory new REMINGTON unprimed 35 Whelen brass cases.
UNIT PRICE .659 CENTS EACH.
HISTORY: The 35 Whelen has been in use since 1922. Colonel Townsend Whelen and James Howe experimented with cylindrical cases (cases used to form the 30-06 prior to the final forming stage) to form the wildcat .400 Whelen. Howe later reduced the neck to .358 diameter and named this cartridge the 35 Whelen. The firm Griffin and Howe offered rifles since the 20's and it was not until 1988 that Remington adopted the cartridge. The 35 Whelen is a classic cartridge that fills the void between 30 calibers and 375 H&H, being based on the 30-06 offers the advantage of being easy to form, fits in standard length actions and produces moderate recoil.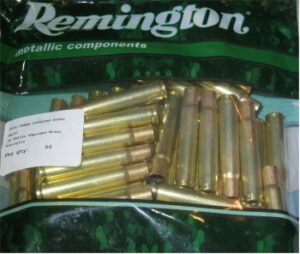 RELOADING PREPARATION:
Brass case mouths MAY not be perfectly round from the manufacturing process, this can be corrected by running brass through the size die (always recommended) prior to loading. Residue from the annealing process may leave a stain on the case neck that can be removed by tumbling. Annealing involves rapid heating then cooling to impart the shell cases with the proper hardness to securely hold bullets in place and provides flexibility to expand and contract through multiple firings handloaders expect.
Flat rate shipping in the Continental US