Description
50 factory new Starline 450 BUSHMASTER (450 Bushy) unprimed brass shell cases.  Uses Small Rifle primers.
1.693 – 1.697 O.A.L.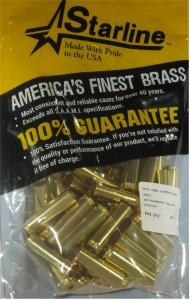 The 450 Bushmaser was designed as a close range, big bore hunting caliber for the AR-15 platform.   Due to the cartridge popularity, Ruger chambers bolt actions in 450 Bushmaster.  The "Thumper" concept (heavy bullets with large frontal area) began with Col. Jeff Cooper.  LeMag Firearms  used the 284 Winchester case for the platform and created the  45 Professional and licensed the cartridge to Bushmaster Firearms.  Hornady devolved the ammunition and modified the case to accommodate their SST bullet and in 2007 changed the name to 450 Bushmaster.  Use .452 diameter bullets in 160 – 350+ grains.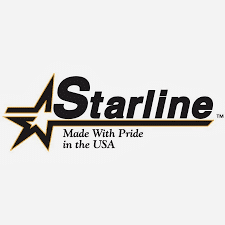 RELOADING PREPARATION:
Case mouths MAY not be perfectly round from the manufacturing process, this can be corrected by running brass through the size die (always recommended) prior to loading. Residue from the annealing process may leave a stain on the case neck that can be removed by tumbling. Annealing involves rapid heating then cooling to impart the shell cases with the proper hardness to securely hold bullets in place and provides flexibility to expand and contract through multiple firings.