Description
50 factory new REMINGTON unprimed 444 Marlin brass shell cases. Large rifle primer pocket.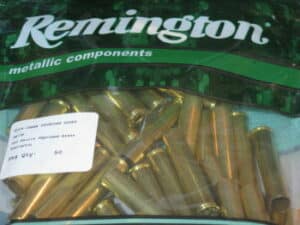 History: The 444 Marlin was introduced in the mid- 60's to give their model 336 Levergun a boost in horsepower. Over the years the .444 has been offered in a number of rifles and even a few pistols. It is another caliber that is seeing new life due to the changing game laws in many states allowing straightwall cartridges for deer hunting where they were previously limited to slug guns and muzzleloaders.
RELOADING PREPARATION:
Brass case mouths MAY not be perfectly round from the manufacturing process, this can be corrected by running brass through the size die (always recommended) prior to loading. Residue from the annealing process may leave a stain on the case neck that can be removed by tumbling. Annealing involves rapid heating then cooling to impart the shell cases with the proper hardness to securely hold bullets in place and provides flexibility to expand and contract through multiple firings handloaders expect.